Orifice Flow Assembly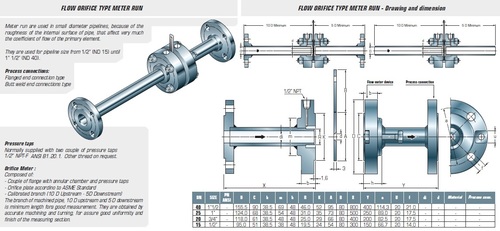 Orifice Flow Assembly
Price And Quantity
Product Specifications
Product Description
Description of Differential pressure flow meter are mentioned as below :
Differential pressure measurement is a worldwide flow measurement for fluids, gases and vapours. It has a Differential pressure flow meter which will always offer precise consequences even with huge bores, high temperature and dangerous pressure.

The Primary differential pressure gadgets, like Orifice have been consistent mechanical flow sensors in accordance with the DIN EN ISO 5167 which are utilized for volume and mass flow measurement. The Orifice are appropriate for non-oxidised and oxidised gases, vapours and fluids; permissible operating temperature -60 to +570 degree celsius. The formed differential pressure will be transformed with the assistance of a differential pressure transmitter delta P into a proportionate flow indication. For calculation of the orifice to DIN EN ISO 5167 is a completely filled out survey form necessary.
Differential pressure flow meter application examples : Power stations, Petrochemical industries, Chemical industries
Benefits of Differential pressure flow meter are mentioned as below :
The Orifice flow - meters are very strong and can be utilized in a varied range of insignificant diameters
It is Appropriate for extensive ranges of temperature and pressure
There is No need of any calibration as the process is consistent
The electronics needed in addition can be utilized over a long distance from the gauging location
The differential pressure measurement is renowned and has a huge installed base
Detail of Differential pressure flow meter are mentioned as below :
Primaries / Differential pressure devices

Mounting between the flanges with soldered connections

Orifice with annular chamber or single tappings Metering pipe along with orifice plate, annular chamber or single tappings

Further:

Flanged orifice plate along with flange tappings ISA-1932-Nozzle Venturi nozzle Classical venture
Orifice
| | |
| --- | --- |
| From DN 10 to DN 1000 From 1/2 inch to 40 inches | |
| Temperature Range varies from | From -60 to 570 degree celsius From -76 to 1058 Degree Fahrenheit |
| Operating Pressure varies from | Max. 315 bar Max. 4570 psi |
| Process Connections | Thread G and -14 NPT cutting ring Welding |
| Orifice Material required | 1.7335, 1.4404. 1.4571, 1.4576 and further materials on request |
Contact Us
Plot No. 120/1, G.I.D.C. Phase II, Near Raghuvir Industries, GIDC, Bharuch, Gujarat, 392015, India
Phone :+918037402941